An Iranian diplomat and a Belgian couple are due to go on trial in Belgium on Friday in connection with an alleged plot to bomb a rally held by an exiled Iranian opposition group in France.
On 28 June 2018, two Belgian nationals of Iranian origin – a husband and wife identified as Amir S and Nasimeh N – drove from the Belgian city of Antwerp to Luxembourg, for what appeared to be a holiday, according to Belgian police.
At a Pizza Hut restaurant in an old part of Luxembourg City, they are said to have met an Iranian man in his late 40s who allegedly gave them a small package. Afterwards, they left the city.
What none of the them realised was that their every move was being watched by European intelligence agencies.
The man the couple are alleged to have met inside the Pizza Hut was Assadollah Assadi, an Iranian diplomat serving as third counsellor at the country's embassy in Vienna, Austria.
Belgian police say he handed over a package containing half a kilogram (1.1lb) of the explosive TATP and a detonator, with which he allegedly wanted the couple to bomb a rally of the National Council of Resistance of Iran (NCRI) in the French town of Villepinte, near Paris, on 30 June.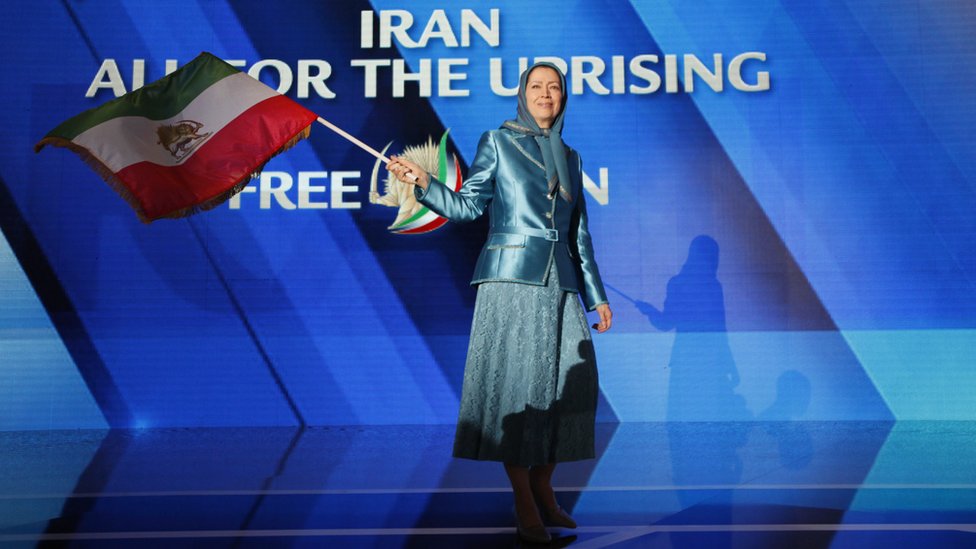 The NCRI is the political arm of the Mujahideen-e Khalq (MEK), an exiled Iranian opposition group that backs the overthrow of the Islamic Republic and is designated a terrorist organisation by Iran.
In the 1980s, the MEK carried out a string of deadly attacks against the Iranian regime, including one that killed the president and prime minister. In response, Iranian security forces launched a crackdown on MEK members and sympathisers in which thousands died.
Over the years, the MEK has evolved from an armed group into an effective lobbying group, winning some powerful friends, including US President Donald Trump's personal lawyer Rudy Giuliani.
Mr Giuliani was a keynote speaker at the NCRI event in June 2018, which thousands of people attended.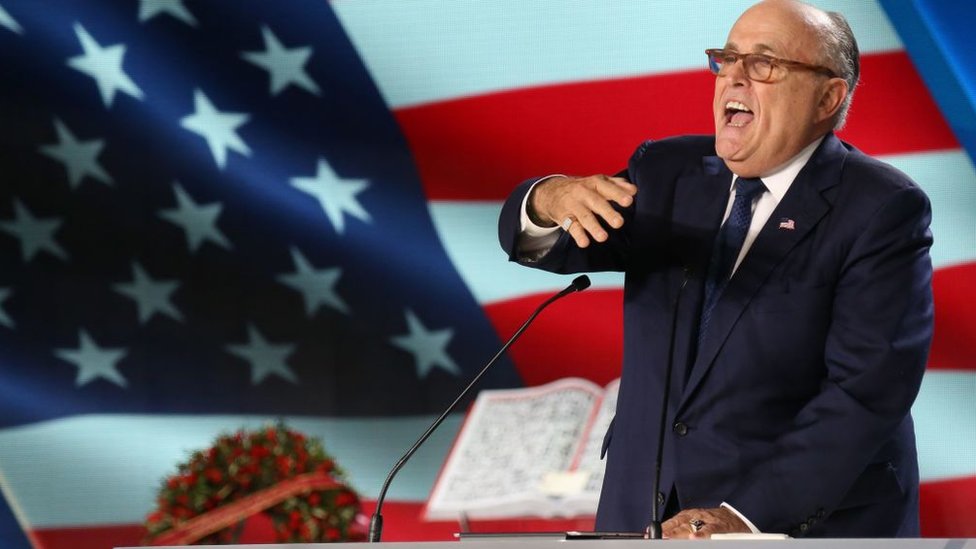 Amir S and Nasimeh N were arrested in Brussels while driving to France; German police arrested Mr Assadi in Bavaria as he returned to Austria; and French police arrested an Iranian man in Paris, who was accused of being an accomplice. All four suspects were accused of attempted terrorist murder and preparing an act of terrorism.
Belgian prosecutors say explosives and a detonator were found hidden inside Nasimeh N's handbag. They believe the intended target was the MEK's leadership and high-profile guests at the rally.
In October 2018, it froze the assets of two suspected Iranian operatives – believed to be Mr Assadi and Saeid Hashemi Moghadam, who sources said was the head of operations at the intelligence ministry in Tehran – in response to what it called "this extremely serious act envisaged on our territory".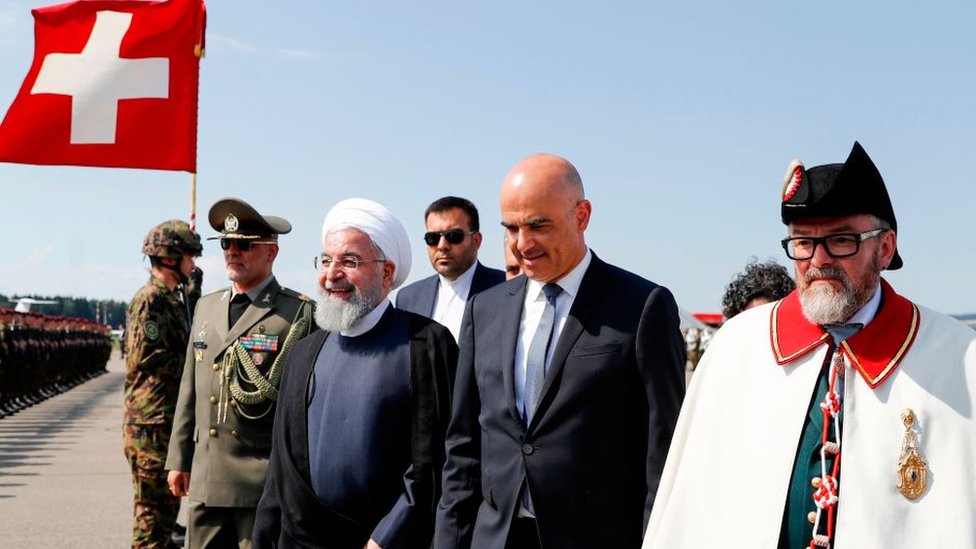 The four Iranians were arrested just days ahead of a rare visit to Switzerland and Austria by Iran's President, Hassan Rouhani.
With the July visit, Mr Rouhani was hoping to save the landmark 2015 nuclear deal between Iran and world powers, which President Trump had abandoned in May 2018.
Iran's Foreign Minister, Mohammad Javad Zarif, tweeted that the arrests were a "sinister false flag ploy" by the NCRI to drive a wedge between Tehran and European nations.


Claude Monique, a former French intelligence agent, says Mr Assadi was the head of Iranian intelligence in Europe and that he was tasked with monitoring Iranian opposition groups there.
Western intelligence sources say the Belgians were tipped off about the alleged bomb by a partner agency. It is thought to have been the Mossad, Israel's intelligence service.
A well-connected source inside Iran told the BBC that he believed Israeli informants in the Iranian Revolutionary Guards had given the information to the Mossad.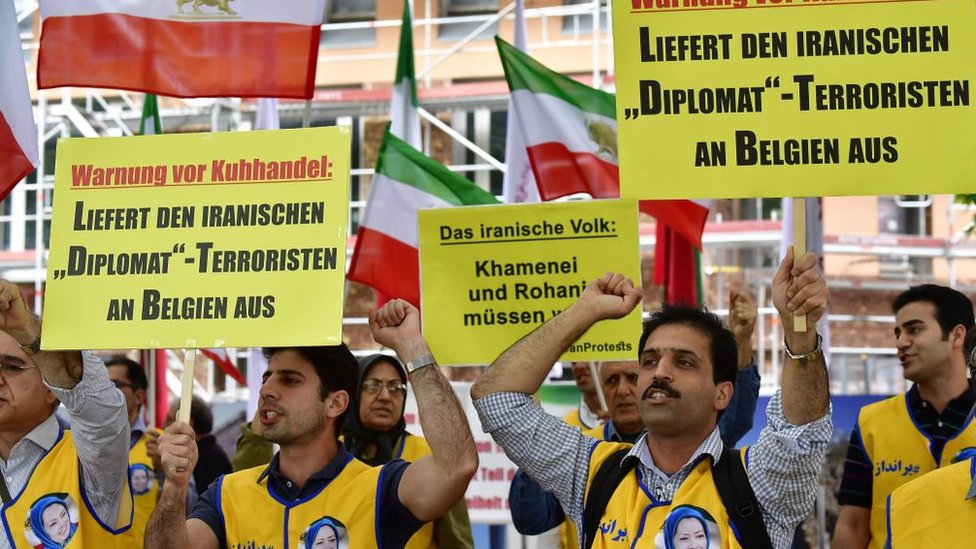 Supporters of the Iranian government say it would not have been logical for Iranian intelligence to attack the NCRI rally just before President Rouhani visited Europe.
They blame foreign agents and rogue elements inside Iran.
Hossein Mousavian, a former Iranian ambassador to Germany who is now a research scholar at Princeton University, said "bad actors" inside Iran were trying to undermine the country's image abroad.
"I would be really sorry for my country if my supreme leader, my president and national security council all decided to build excellent relations with Europe and some rogue elements undid it. But you cannot blame the government and the state," he said.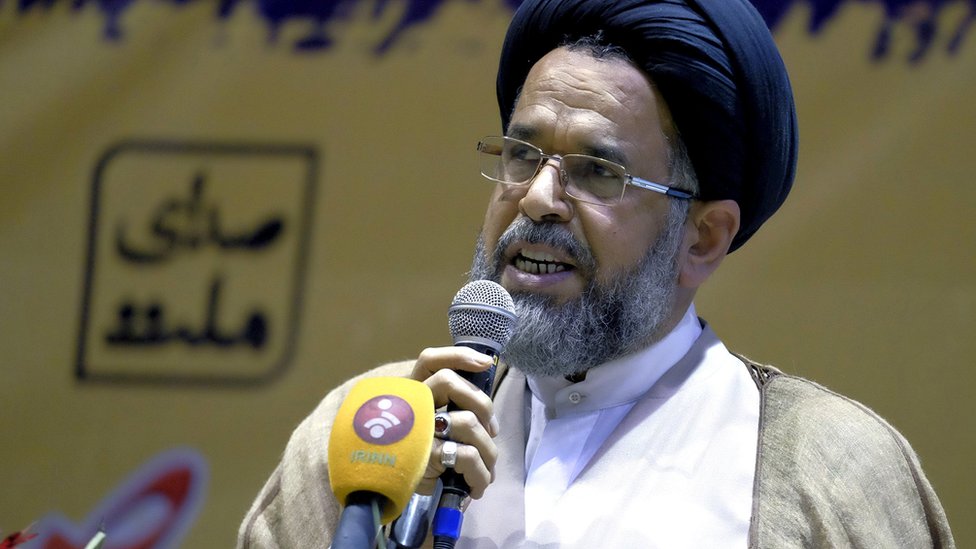 Belgian prosecutors believe the plot was approved by the Iranian leadership in Tehran.
The Belgian couple were very active within the MEK, according to the group. It says Amir S was a former member and there are photographs showing him standing beside leaders of the group.
Belgian prosecutors say Amir S was recruited by Iranian intelligence in 2012 and that he met Mr Assadi several times in Germany and Austria. He was allegedly being paid by Iran.
Amir S and Nasimeh N admit that they received a package from Mr Assadi, but they deny having knowledge about its contents and say they were deceived by the diplomat. Nasimeh N says she believed the package contained fireworks.
Mr Assadi refuses to co-operate with the investigation and contests the charges against him.