Shifting frontlines and allegiances in Syria are making it difficult to respond to the growing humanitarian crisis triggered by Turkey's offensive on Kurdish-controlled parts of the country, aid groups have said.
After eight days of the Turkish operation about 300,000 people have been displaced from their homes and at least 71 people killed in north-east Syria, according to the UN and a human rights monitor. Local officials on Thursday put the number of dead at 231. Over the border in Turkey, 20 civilians have been killed in counterattacks.
The Syrian towns of Ras al-Ayn and Tel Abyad, the two main targets of Turkish troops and their Syrian rebel allies, have emptied of people after a week of shelling, rocket attacks and ground clashes as the Kurdish-led Syrian Democratic Forces (SDF) fight back.
Roj hospital, Ras al-Ayn's only medical facility, has reportedly been hit by heavy machine gun fire, two sources said. A medical worker at the facility died of his wounds on Thursday after being injured in shelling several days ago.
The International Rescue Committee (IRC) said an apparent airstrike hit a "trauma stabilisation point" run by a local organisation and that two of the group's ambulances were damaged despite being clearly marked. It said its ambulances were being fired on every time they approached Ras al-Ayn, preventing them from reaching the town.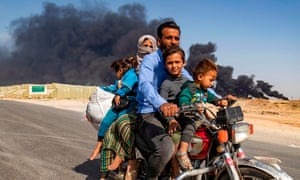 Unable to guarantee its employees' safety, IRC and many other aid agencies have suspended operations and removed staff from the area.
Some are still operating away from the frontline, but as Syrian government forces move in under the terms of a deal between the SDF and the Syrian president, Bashar al-Assad, many of the biggest international aid providers will have to withdraw because they are not registered in Damascus.
"There will be a huge impact on where we're able to access in the north-east," said Sonia Khush, the Syria response director at Save the Children. "We have to leave as the battle lines change."
Turkey launched Operation Peace Spring last Wednesday after Donald Trump announced the withdrawal of US troops from the area, effectively removing the buffer stopping the two forces from clashing. The Turkish president, Recep Tayyip Erdoğan, has long maintained the SDF is indistinguishable from Turkey's militant Kurdistan Workers' party (PKK).
Source: The Guardian