An Iranian holds up a poster showing a portrait of the country's Supreme Leader Ali Khamenei (C) with a small portrait in the corner showing Islamic Revolution founder Ayatollah Ruhollah Khomeini, during a ceremony celebrating the 40th anniversary.
An Iranian holds up a poster showing a portrait of the country's Supreme Leader Ali Khamenei (C) with a small portrait in the corner showing Islamic Revolution founder Ayatollah Ruhollah Khomeini, during a ceremony celebrating the 40th anniversary.Sha
Although some reports say Iran's Supreme Leader Ayatollah Ali Khamenei's Twitter account has deleted an offending post which led to its "temporary suspension" by Twitter on Friday, others say it is "read only" mode.
The account appears to be live once again, but in a spot check on the morning of Sunday February 17, the latest update on the page dated back to February 14. Technology savvy reporters say the page may still be in read-only mode.
Part of the controversy about whether Khamenei's Twitter has resumed its activity or not is about the embarrassment the development may have caused for Khamenei. Iran's Supreme Leader controls everything in Iran including the media, yet he needs international platforms such as Twitter and Facebook to get his message across as Iranian state TV channels and other state-controlled media lack popularity. On the other hand, as he cannot control the international media, embarrassing developments such as closure of his accounts for propagating violence are inevitable.
The deleted tweet in question was one in which Khamenei endorsed a religious ruling (fatwa) by his predecessor Ayatollah Rouhollah Khomeini, condemning the author of the book The Satanic Verses, Salman Rushdie to death, in late 1980s. Khamenei had suggested in the post that the sentence is still relevant and irreversible.
The fatwa was criticized by European countries and officials and the ensuing controversy adversely affected Iran's ties with Europe for nearly a decade until Iranian officials announced in early 2000s that it was no longer valid.
The post to mark the anniversary of the fatwa, said "Imam Khomeini's verdict regarding Salman Rushdie is based on divine verses and just like divine verses, it is solid and irrevocable."
A spokesperson for Twitter told the media on Friday that Khamenei's Twitter account was suspended temporarily because it violated the micro-blogging platform's terms of service.
According to Buzfeed News technology reporter Ryan Mac, "The @khamenei_iraccount will go into read-only mode until the offending tweet is deleted by the user. (The account hasn't tweeted since yesterday.) The public will also not be able to see the tweet. So far, no suspension or removal of the account, according to Twitter spox," he tweeted on Friday.View image on Twitter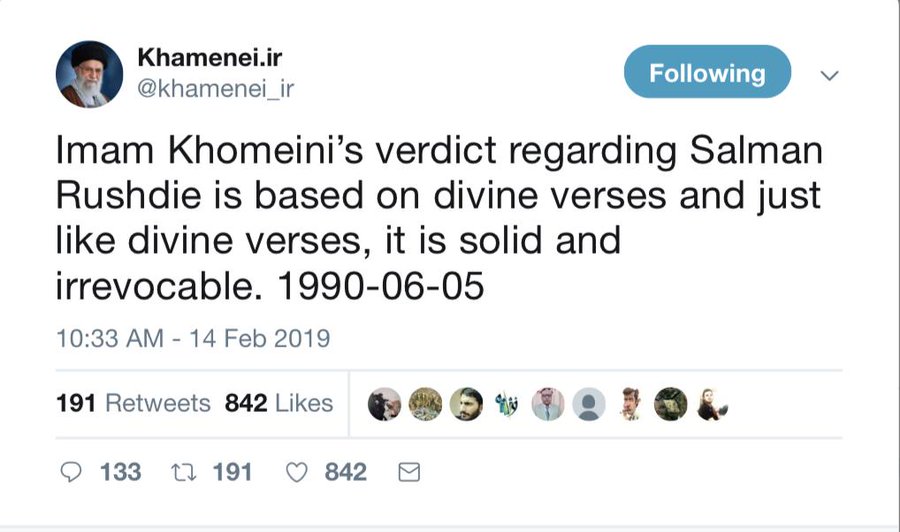 A Twitter spokesperson just said this tweet from Iran's leader violated its terms of service and has been made unavailable.

"It's against our rules to make specific threats of violence or wish for the serious physical harm, death, or disease of an individual or group of people."68011:26 PM – Feb 15, 2019453 people are talking about thisTwitter Ads info and privacy
Twitter's spokesperson added that "the enforcement was at the tweet level" and that Twitter has nothing more to share on the incident.
Ryan Mac's latest update around 22:00 gmt on Saturday published a screen grab of Khamenei's account on a mobile platform, adding that " It doesn't seem like it has taken action to delete the tweet so Twitter is hiding it from view. The account won't be able to tweet again until the user controlling it manually deletes the offending tweet."
Following the temporary suspension of Khamenei's account, Iranian netizens expressed opinions mainly in support of the suspension. One Iranian user in the United States said Khamenei's behavior on Twitter is similar to the way Iran is treating FATF regulations that would facilitate Iran's commercial transactions with the world. Khamenei wants to be a part of the modern world community, but he does not like to respect the rules of the game.
Another user observed that while Khamenei has been regularly updating his Twitter account in English, he barely posted anything on his Persian Twitter for almost a year. Some other users called on Twitter to bloc Khamenei's account.
Yet another user, borrowing the name of an Iranian actor as his or her alias, wrote that "Dictators should not be present on social media."
Removing the Rushdie post would be a big let-down for Khamenei. It is possible that his office is waiting for the whole thing to be forgotten before quietly deleting the post and returning the account to full functionality.
The post on Khamenei's Twitter account was published when Iran needs friendly ties with Europe to keep EU's recently established financial mechanism to circumvent part of U.S. sanctions.
Although the timing appears to be coincidental, there are similarities between the incident now and when the Khomeini fatwa was first issued in the late 1980s. At that time, the fatwa and the controversy surrounding it stopped over 200 Western companies that had registered to take part in Tehran International Trade Fair; a move that would have ended Iran's isolation.
SOURCE:radiofarda